Memory Care in Weatherly, Pennsylvania
Our Daybreak Memory Care neighborhood at Heritage Hill Senior Community provides support for our residents who are experiencing early and mid-stage challenges caused by dementia-related illnesses. Find peace of mind knowing that your loved one is surrounded by an excellent team of trained caregivers 24/7. With highly structured routines and enriching activities, your loved one will find a newfound lifestyle fit for their own unique needs.
Included With Memory Care
Fully Furnished Apartment
24-Hour Personal Care Assistance with Professional Nurse On-Call
All Utilities Except Phone & Cable
WiFi access
Three Meals Per Day plus Snack availability
Medication Management
Structured Activities Program
Wellness Services
Housekeeping, Linen & Laundry Services
Maintenance
Appealing Amenities
Beautifully Landscaped Grounds
Exterior Courtyards
Private Dining Room
Library
Activity Rooms
Social Lounge
Computer Area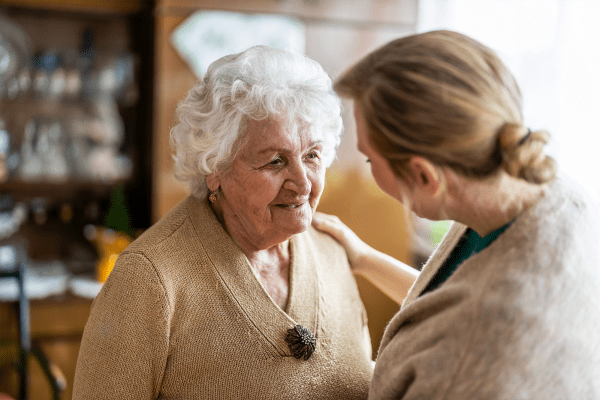 Services Offered
24-Hour Personal Care Assistance with Professional Nurse On-Call
Individual Health Care Management
Professional Salon Services
24-Hour Beverage Service
Social, Educational & Religious Programs
Structured Programs & Activities
On-Site Therapy Services
Lab, X-ray & Diagnostic Services
Podiatry, Optometry & Audiology Services
WanderGuard® Departure Alert System
Pharmacy  
Physician Visits
Transportation
Daybreak Program and Positive Approach to Care
Heritage Hill Senior Community's Daybreak Memory Care Neighborhood provides a warm and nurturing environment to residents living with Alzheimer's disease, dementia or memory loss. Our highly structured and secure neighborhood is designed to promote independence, socialization, and quality of life, while maintaining each resident's dignity. We are able to enhance the lives of residents through nutritious meals, consistent routines and engaging activities. More importantly, a Positive Approach to Care is the standard for all our caregivers' interactions with residents. Recognizing the unique needs of each person and highlighting their skills, while providing support, is our philosophical approach to all relationships.
It's a difference you can feel